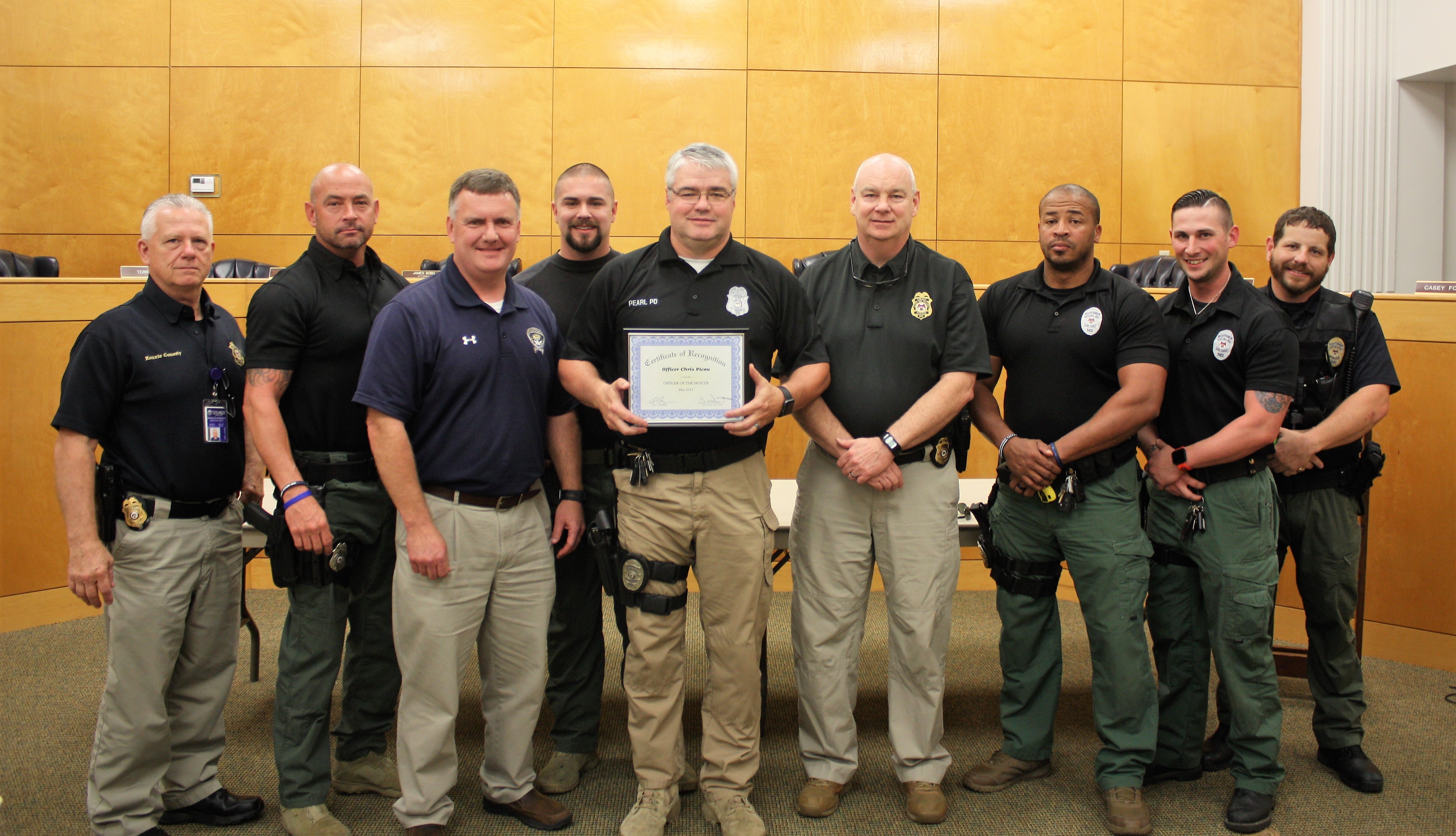 We are pleased to announce that the Pearl Police Department Officer of the Month in May is Officer Chris Picou. Chris graduated from Trafton Academy in Baton Rouge, Louisiana and then attended Louisiana Tech and Northeastern College. He graduated from the academy in 1995 and soon became a K-9 Officer in the Narcotics Division in St. Joseph, Louisiana. Chris later worked at Hinds Community College in Raymond also with Narcotics and K-9's; the Pearl Police Department with K-9's; the Madison County Sheriff's Department in Interdiction and K-9; with Richland PD as Lt. of Narcotics/Interdiction and K-9 and then worked as Chief Deputy in the Hinds County Sheriff's Office in Drug Operations. Officer Picou began working at the Pearl Police Department in October 2015 as a part of the Interdiction Team and K-9 Unit. Recently Officer Picou was commended by the Comal County Texas Sheriff's Office for being instrumental in the arrest of a murder suspect that had fled Texas and was traveling through Pearl, Mississippi. Without Officer Picou's diligence and dedication the suspect would have continued his flight from arrest and prosecution. We are very proud to have Officer Picou at the Pearl Police Department.
The Pearl Chamber of Commerce presented Officer Picou with a framed certificate, a $100 Bass Pro Gift Card and a Cracker Barrel Gift Basket along with a complete meal for two. Moss Creek Fish House donated a $25 Gift Card; Dunkin Donuts donated a $25 Gift Card and the Pearl Municipal Credit Union donated a $25 Visa Gift Card. McAlister's Deli donated a complimentary lunch for two; Scotts Miracle Gro donated a Fit Bit; BancorpSouth donated a spectator cooler chair and Signmark donated a soft side cooler.
Pictured from left to right: Assistant Chief Ronnie Conerly, Investigator Ronnie Decell, Mayor Brad Rogers,Rankin County Investigator William Lindley, Investigator Chris Picou, Chief Tim Sarrett, Sergeant Sentel Easterling, Investigator Robbie Reid, Lieutenant John Johnson.