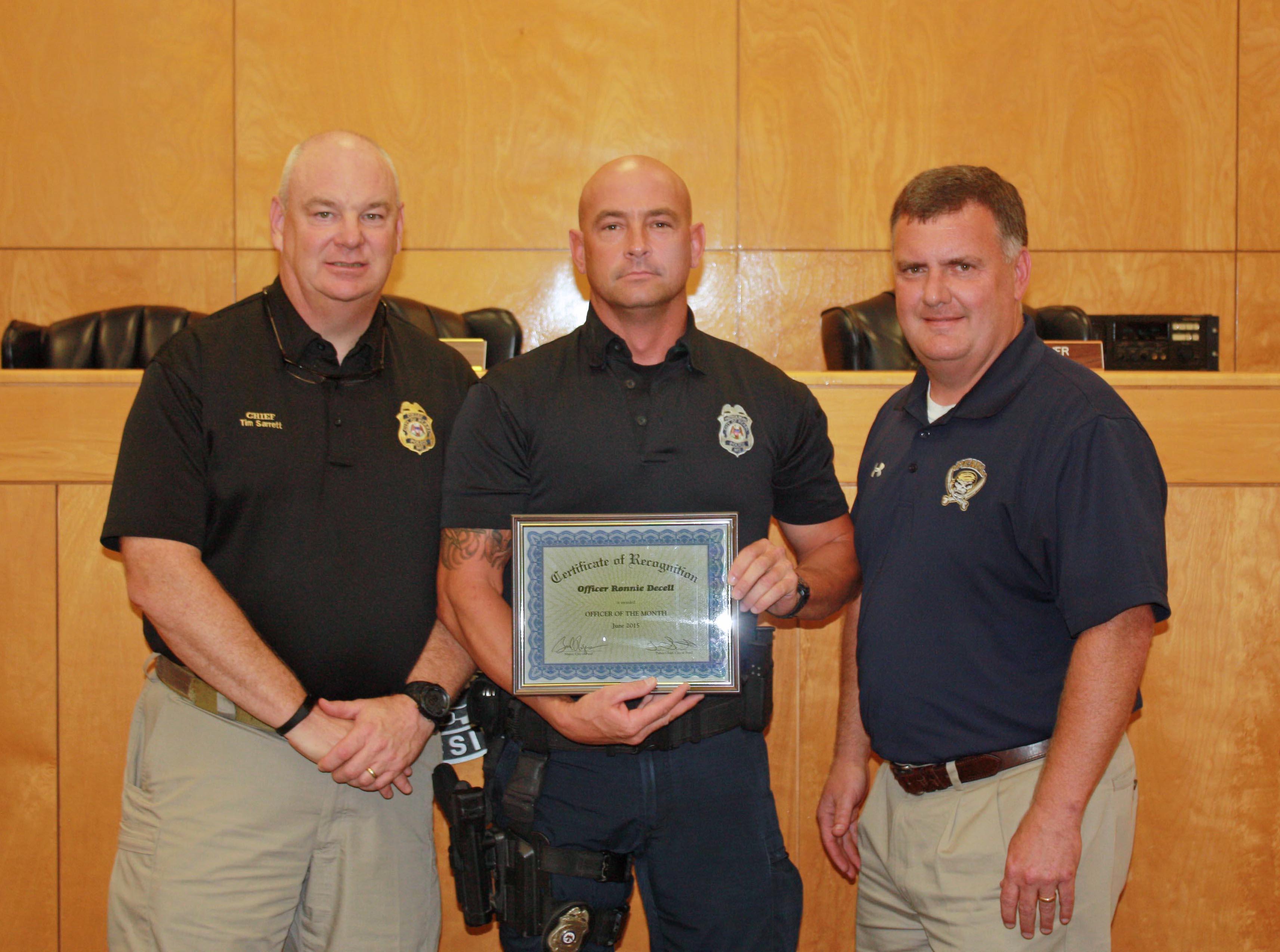 We are pleased to announce that the Pearl Police Department Officer of the Month is Officer Ronnie Decell. Officer Decell graduated from Simpson Academy in 1993 and from East Tennessee Police Academy in 1996. Officer Decell began his career with the City of Pearl in 2006 as a firefighter with the Pearl Fire Department. In 2009, he was promoted to Lieutenant. In 2012, Officer Decell started working as a reserve police officer.  Later in 2013, he joined the Pearl Police Department as a full time officer. He later joined the SWAT Team . His certifications include both police and fire training including EMT, rope rescue I and II, confined space rescue, hazmat tech I and II, fire officer I and II and Basic SWAT certifications.
On May 31, 2015, Officers were dispatched to a shooting call at the Highlands mobile home community. Upon arrival it was determined to be a self-inflicted wound with a tremendous amount of blood loss. Officer Decell assisted other officers on the scene with his medic training by quickly applying a combat application tourniquet until the ambulance and first responders could arrive.  As a result of Officer Decell's advanced training, EMT experience, and life saving measures, the victim was transported to a local hospital where he lived another 24 hours in enough time for his family to be contacted and make it to the hospital before he passed away. If asked about that day, Officer Decell would simply say he was doing what he was trained to do not only as a police officer but also as his experience as a firefighter. He would also divert any credit from him to his fellow officers that were there that day.  For his actions, efforts, and response on that day Officer Decell is the June Officer of the Month.
The Pearl Chamber of Commerce presented Officer Decell with a framed certificate, a $100 Gift Card to the Outlets of Mississippi and a Cracker Barrel Gift Basket along with a gift card for dinner for two people. Buckley Security donated a $25 gift card to the Tropical Smoothie Café; Derek Havard with McIntosh & Associates donated a $50 Applebee's Gift Card; Moss Creek Fish House donated a $25 Gift Card; MedScreens donated a $25 Kroger Gift Card; The Pearl Municipal Credit Union donated a $25 Visa Gift Card; Scotts Miracle Gro donated a camping chair; Signmark donated a gym bag and Fowler Chiropractic donated a certificate for 8 deep tissue laser treatments valued at $320.