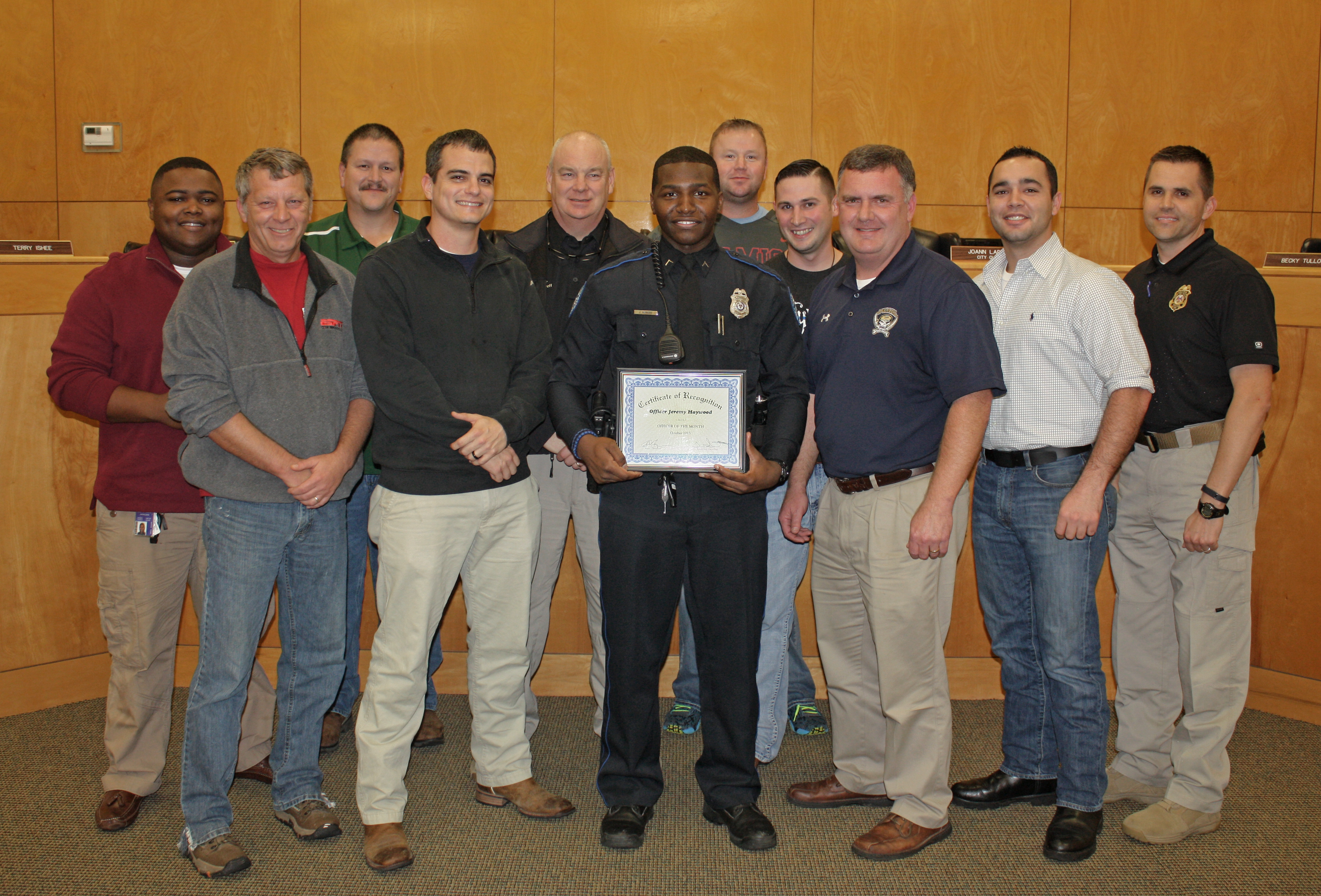 We are proud to announce that the Pearl Police Department Officer of the Month for October is Officer Jeremy Haywood.  He is a graduate of Jim Hill High School and the Jackson Police Academy. Officer Haywood worked at the Jackson Police Department before moving to Pearl and going to work at the Pearl Police Department. He is married to his wife Jennifer and has three beautiful daughters, Haiden, Addyson and Paityn.
On October 7th a report of an armed robbery was called in by the victim. Officers quickly responded and began gathering facts and canvassing the surrounding area. The victim reported the suspect as being armed with a semiautomatic handgun. This made the search ever more imperative due to the danger that he posed to the public.  Officer Haywood located a male matching the description of the suspect provided by the victim. This person was sweating profusely as if he had been running for a lengthy period of time. Officer Haywood detained this person and brought him back to the area in order for the victim to attempt identification. The victim positively identified the person Officer Haywood detained. Without the quick response, attention to detail and his methodical canvass, this suspect may have escaped apprehension. The suspect had run home to the apartment where he lived and changed clothes so that the description would not match the victim's statement. It was only by great police work that Officer Haywood was able to recognize him as a person of interest. This isn't the first time Officer Haywood has been responsible for the capture of felony suspects.  Officer Haywood approaches every call with same careful attention and examines every possible detail. This is one of the traits that makes him a stellar police officer. Officer Haywood never wants any credit and attributes every capture to the team effort.  We are very pleased to be able to honor him with this award.
The Pearl Chamber of Commerce presented Officer Haywood with a framed certificate, a $100 Walmart gift card and a Cracker Barrel Gift Basket along with a gift card for a meal for two people. Derek Havard with McIntosh & Associates donated a $50 Applebee's Gift Card; Buckley Security donated a $25 Subway Gift Card; MedScreens donated a $25 Kroger Gift Card; Moss Creek Fish House donated a $25 Gift Card; The Pearl Municipal Credit Union donated a $25 Visa Gift Card and Jose's Mexican Restaurant donated a $20 Gift Certificate. Signmark donated an insulated bag and Fowler Chiropractic donated a certificate for 8 deep tissue laser treatments valued at $320.00.